Lisa Webb
Business Manager
Corey Jones
Sales Manager
Claire Duncan
Motorclothes Associate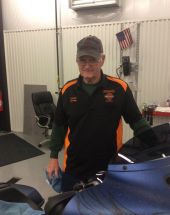 Harvey Holcombe
Detail Specialist
Peggy Beckner
Shipping/Receiving
Dane Pontzius
Service Manager
Dane comes to us from sunny Florida. He has over 11 years with Harley-Davidson. Most of that time he worked hard as a service tech and Service Manager. Dane is totally committed to quality work and customer service.
David Yahn
Service Technician
David is a Marine Veteran, and a PHD trained service technician. David is an avid rider, and a very experienced Harley-Davidson technician.
Service Team
Our Service team is here and ready to serve you.