Lisa Webb
Business Manager
Christy Gibson
Motorclothes Associate
Chris Turner
Service Technician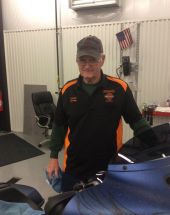 Harvey Holcombe
Detail Specialist
Peggy Beckner
Shipping/Receiving
Dane Pontzius
Service Manager
Dane comes to us from sunny Florida. He has over 11 years with Harley-Davidson. Most of that time he worked hard as a service tech and Service Manager. Dane is totally committed to quality work and customer service.
David Yahn
Service Technician
David is a Marine Veteran, and a PHD trained service technician. David is an avid rider, and a very experienced Harley-Davidson technician.
Service Team
Our Service team is here and ready to serve you.
Brandon Taylor
Sales Associate
Brandon has been riding since 2012. He is very excited to be part of the Thunder Road Harley-Davidson family and will work with you to get you on the bike of your dreams.