JR Retzlaff
General Manager
JR started his V-Twin career in the racing capital of the world. Later he relocated to Florida and continued to build his Harley-Davidson history. Eighteen years later he has set roots in Danville and is looking forward to making new friends. He too is an avid rider and enjoys tinkering on his Harleys, come in and say Hi!
Lisa Webb
Business Manager
Lisa started working for Thunder Road Harley-Davidson in 2006 when it all started. She worked as Motorclothes Manager for ten years before moving to the Business office. She started riding in 2005 and still has the love for Harley's as she did when starting out.
Corey Jones
Sales Manager
Corey has been in sales 22 years and with us at Thunder Road Harley-Davidson since 2006.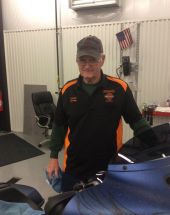 Harvey Holcombe
Detail Specialist
Dane Pontzius
Service Manager
Dane comes to us from sunny Florida. He has over 11 years with Harley-Davidson. Most of that time he worked hard as a service tech and Service Manager. Dane is totally committed to quality work and customer service.
David Yahn
Service Technician
David is a Marine Veteran, and a PHD trained service technician. David is an avid rider, and a very experienced Harley-Davidson technician.
Brandi Rice
Motorclothes Associate
Brandi has been in the automotive business since 2013. She brought her expertise to Thunder Road Harley-Davidson in February of 2020. She has multiple jobs at the dealership including shipping and receiving. Her passion is to help her customers get their riding needs in General Merchandise.
Angel Gibson
Motorclothes Associate
Angel started in 2018 when she was only 15 years old. She started riding on Harley's with her father at the tender age of one year old. Her passion for Harley's has grown even stronger. She can assist you in your shopping needs for anything you may desire.
Kimberly Newman
Sales Associate
Kimberly started with Thunder Road in April of 2021. She purchased her first Harley-Davidson in June of 2020. She and her husband have now upgraded to a Road Glide to enjoy each other as they ride. She is looking forward to helping you fulfill your dreams on your new Harley-Davidson.
Mike
Parts Associate
Mickey is a 12 year Military Veteran. He is a certified electronics technician with over 36 years of experience. He has worked in the automotive and motorcycle industry off and on for 40 years. Come by and see him at our parts counter.
Jerry Pruitt
Parts Manager
Jerry came to Thunder Road Harley-Davidson on May 27, 2021, with 5 years of H-D experience.
Prior to that he was a manager for Town Gun Shop for 7 years and for 10 years he worked for Jimmy's Cycle Sales/Piedmont Motorsports where he started as a salesman and worked his way to General Manager.


Danny Payne
Service Technician
Lysle Varshine
Service Technician
Pedro Hernandez
Shipping/Receiving/parts
I got my first bike at the age of 16 and been riding ever since! I have a 2015 Sportster as my daily driver! I'm from Daytona beach FL and have been in Danville since 2018! I'm pleased to help you with anything you need!